Softonym
Design for Community web arround downloading software.
It's a look and feel that convened winner of the U.S. company in Palo Alto (California),  In the end, it did not apply to the web for image loading time and high financial budget to implement it problems.
The web design has a vintage-inspired elements and uses analog counterpart is the high technology that is the reason for the web. This inspiration has its purpose in wanting to be different from other similar websites.
Media • Web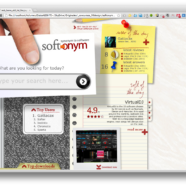 Oct

17
Tags
Related Posts
Share This