Graphic design for wedding
Graphic design for Nuria&Martín's wedding.
Design work for the graphic look&feel
Design of the graphic look&feel. The couple wanted to skip solemnity arround the celebration of their wedding. To achieve this goal, we decided to focus the design in an event that the couple have been held for three times: The "festa del vinil" (Vinyl party). This event was to invite friends to play music on vinyl. From this idea, combined with a taste for Bauhaus, we decided to apply their style to a popular and cheerful image of László Moholy Nagy.
Invitation. Case Design and cover art for vinyl single.
PhotoCall. Design and installation of Stand for official wedding photos
This post is also available in Català.
Media • Print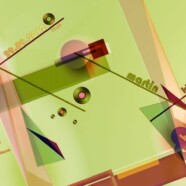 Oct

11
Tags
Related Posts
Share This